Triveni Digital and Electroline Partner to Extend Monitoring Beyond the Cable Plant
PRINCETON, N.J. — Nov. 9, 2011 — Triveni Digital today announced that it has partnered with Electroline to deliver a comprehensive video quality assurance solution. The new Triveni Digital StreamScope® DMS enables centralized management and monitoring of a large number of Electroline's DVM (Digital Video and Network Monitor) systems, thereby empowering service providers to troubleshoot issues in the network distribution system and reduce expensive service truck rolls.
"Our StreamScope DMS pairs with Electroline's DVM systems to take monitoring beyond the headend or hub," said Ralph Bachofen, vice president of sales and head of marketing at Triveni Digital. "As a result, our joint customers can be even more proactive in addressing the signal or network issues that can threaten the viewer's quality of experience and, in turn, overall customer satisfaction."
The Electroline DVM 7500 helps users to determine whether a network anomaly is in the HFC segment of the distribution plant or if it's caused by a source farther upstream. This knowledge allows operators to optimize maintenance engineering staff efficiencies, reduce time to repair, and ultimately maximize the QoS for subscribers. Because a DVM can monitor many transport streams simultaneously, the cost per channel to monitor is very low. The StreamScope DMS operates in concert with a collection of DVM units to enable fault detection and isolation closer to the end customer.
Data from DVM units extends the reach of the central StreamScope DMS system, which in turn provides the management and analysis tools critical to effective fault isolation and repair. Built on the technology behind Triveni Digital's proven StreamScope EM-40 and RM-40 technologies, StreamScope DMS provides comprehensive monitoring capabilities in a flexible, easy-to-use system. StreamScope DMS enables the user to define alarm rules and take advantage of historic trending and analysis including the filtering of warnings and alarms into actionable tasks.
"Cable operator staff responsible for maintaining network performance and service quality need to locate quality of service issues in a timely manner, preferably before the call center gets inundated with customers reporting service degradations or interruptions," said Jay Staiger, vice president, product management at Electroline. "Monitoring both RF and MPEG transport stream data in the field, our DVM provides the StreamScope DMS with critical 'outside' information that speeds identification and resolution of service quality issues."
Information about Triveni Digital products is available at www.trivenidigital.com. Information about Electroline products is available at www.electroline.com.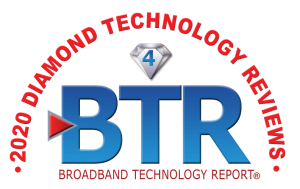 Electroline Equipment Inc. AQ4 – Hardened Outdoor DOCSIS 3.1 Modem and Gateway – 4 Diamonds The AQ4 series rugged cable modem is DOCSIS 3.1 and EuroDOCSIS 3.1 compliant and is weatherproof and…
Read More